SETTINGS GUIDANCE
Dear Adventurers, 
To maximize the adventurer's experience at Cloudsong, today, Xiao Yu would love to introduce to all of you about the Settings function. 
Settings assist the players to set up their Graphics, Camera, Sound, Display, Keybinding, Expansion, and Language that suit the player's device and preferences. Besides, player's role ID, Padlock and Support are also included here.
Settings including:
In the game Basic, gamers have the option to switch between characters and also duplicate their role ID, if needed. Additionally, they have the ability to customize various features such as Battle Settings, Movement Modes, Chat Settings, Character 3D model on interface, Interaction Settings, Guide Ship, Battle Status, and Push Notification to enhance their gaming experience. 
Settings: Basic
In the Graphics section, you can adjust the Frame Rate Mode, Resolution, Display Quantity and Screen Settings.  
For Adventurers who need a smooth playing experience, reducing the number of displays in the game and setting the resolution to match the phone configuration is necessary. Below is the recommended setting from the Publisher. 
Recommended for Low Devices
Recommended for Medium Devices
Players can adjust Camera Sensitivity and General Sight here:
Settings: Camera
Revelation is available in both English and Chinese languages, and the player also has a sound settings adjust option.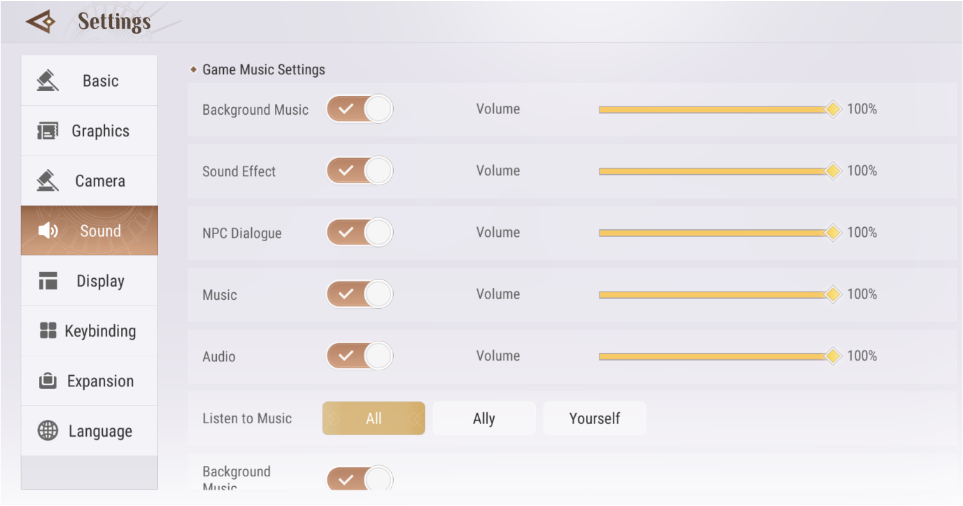 Settings: Sound
The Display section consists of three parts: Main Interface Display, Profile Display, and HUD. In this section, you will be able to adjust the position of the health bar and chat box, which helps gamers easily navigate through dungeons or PVP battles without obstructing their view. 
Settings: Display
You can customize the keys to suit your preferences. However, Xiao Yu does not recommend changing these settings because they are optimized for the gaming experience. But if you are not comfortable with them, feel free to change them to your liking, as you can always restore the default settings. 
Settings: Keybinding
 Expansion section will include the resources that need to be downloaded when entering the server. This includes Base Pack, Scene, Story Performance, Fashion, and Modes. When you enter the game, please download the complete package to receive attractive Bound Divine Jade rewards. 
Note:

Players can only receive

the

rewards once on each of the account.  

 
Settings: Expansion
Currently, Revelation has 5 main languages that you can switch to, including Vietnamese, Thai, Indonesian, English, and Chinese. 
Settings: Language
So Xiao Yu has introduced everyone to the details of the settings system. We hope you will have the best experience in Cloudsong. Love you guys~